Linda Mensova - Senior Flight Stewardess for Emirates Airline - English version
31.07.2013 03:49 | Michaela Lejsková
While you are on a board of Emitates Boeing or Airbus fleet you can meet Miss Linda Mensova. Having six years´ experience on board she has achieved an excellent position in her career: a senior flight steward. Learn more in our interview about the rules and working conditions in this company, or the written and unwritten rules on board of a plane.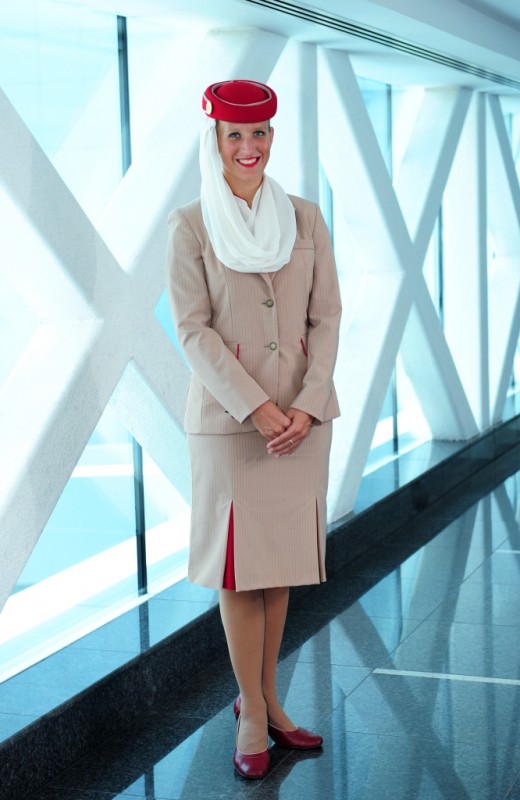 Why do people decide to become flight attendants? Why have you decided to become a cabin crew member?
There are various reasons why people want to become flight attendants. But generally there is a common love to travel, meet and interact with new people (colleagues, customers) and learn about new cultures.
Is there an age limit for your job?
Emirates cabin crew must be at least 21 years old when they join.
What are the possible career paths for a cabin crew member at Emirates? Is there any chance for career growth?
Emirates offers amazing opportunities to grow –from the Economy cabin, where all Emirates Cabin Crew begin, through to the premium cabins (Business Class and First Class) and beyond – to a leadership role on the aircraft– as an SFS (Senior Flight Steward/ess), PUR (Purser); or even becoming trainers at Emirates Aviation College-Cabin Crew Training – teaching new cabin crew; and maybe even into management positions. All promotions are based on performance and competence not length of time served. Regular reports throughout their career help monitor crew performance
Are there any restrictions for working as a member of a cabin crew?
Emirates cabin crew members must have an arm reach of 212 cm while standing on tiptoes. There is a simple, practical reason for this – they need to be able to open and close the overhead lockers where safety equipment and luggage are placed. In addition crew must not have any tattoos which would be visible whilst wearing the Emirates uniform.
Who would you not recommend this type of job to and why?
Being a cabin crew member is a very demanding job and you need to be flexible, be able to work under stress and time pressure while remaining friendly and keeping a smile on your face.
What are the specifics of an Emirates' cabin crew uniform? Do the details signify anything in particular? Why do all Emirates female cabin crew members use red lipstick?
Emirates' cabin crew uniform was designed to be comfortable and modern while reflecting certain characteristics of the outfit of traditional Middle Eastern women. The red lipstick perfectly complements the iconic hat and other red details in the cabin crew uniform.
What are the cabin crew's obligations towards passengers and vice versa?
The cabin crew is there to assist the passengers and to meet their needs in order to make their journey as pleasant as possible and must ensure safety of our passengers. The cabin crew must be able to assist passengers in the event they have any health problems. Passengers must respect the guidelines presented by the cabin crew.
What are the standard procedures for preparing the plane for a flight before passengers start boarding?
After landing at the final destination, the entire aircraft is cleaned from the previous flight and is neatly dressed up. The Emirates team also ensures the aircraft undergoes a technical inspection.
What is your role while the passengers are boarding? What do you need to pay attention to?
Cabin crew greet customers, welcome them, ensure their comfort and safety and all this done with a smile. We pay attention to all our customers, however extra care is given to special needs customers (mothers with infants, elderly, customers with disabilities). We also pay attention to customers who don't look 100% well and ensure they are attended to by ground medical services to discuss their medical concerns.
Is it possible for a regular passenger to visit the cockpit? Under which conditions might this be possible?
No – regular passengers are not allowed to visit the cockpit.
Do you keep your own flight log in which you note the statistics of each of your flights?
Yes, I have one. As we are traveling so often, it can be hard to remember exactly where we've been so it is essential to keep a record of our flights. Emirates' pilots and cabin crew members keep their own flight logs, in line with international regulations and standards.
How do you handle medical issues of passengers and how is the aircraft equipped in terms of first aid.
Each Emirates cabin crew member undergoes a first aid course to be able to help the passengers in case of an emergency. Every aircraft has standard first aid equipment; however, in the case of a more serious medical issue occurring on board, the captain can decide to make an emergency landing at the nearest airport, where the passenger is handed over to local physicians for further medical assistance. (Please refer to link for information on Cabin Crew Training .
https://www.emiratesgroupcareers.com/english/Careers_Overview/cabin_crew/crew_training_career.aspx)
Has anyone given birth on board an aircraft on which you were flying?
So far I have not been on such a flight but we are trained even for such an occurrence.
It is perhaps difficult to get on well with all of the passengers all of the time. Are you trained for these kinds of situations?
When recruiting, Emirates seeks dedicated employees, who are open-minded, helpful, friendly and service-oriented.
Emirates Cabin Crew must deliver exceptional customer services experience on every flight. Candidates should demonstrate:
A positive attitude and empathy for others
Strong cultural awareness and the ability to adapt to new environments and people
Flexibility and the motivation to manage a demanding work schedule
Qualities necessary to live up to the mission and values that Emirates holds in high regard – Professional, Empathetic, Progressive, Visionary, Cosmopolitan
To be a cabin crew member you have to have a happy disposition, even when under pressure, otherwise you would struggle. I really enjoy meeting and looking after our passengers from all over the world – it is one of the interesting parts of my job. I think the biggest tool I can use is my smile – if you share a smile, you almost always get one back.
And yes, we also have training on how to deal with difficult passengers.
In this training, emphasis is on communication between pilots and cabin crew and the importance of resolving conflict onboard. Conflict management techniques are highlighted in order to prevent any on board situation from worsening.
Are the check-in processes for the cabin crew different at various airports? Are there any unusual procedures at some airports?
Cabin crew must go through a standard check-in procedure, including passport and security check just like any other passenger travelling. However, when rushing between flights, we are helped through as quickly as possible so that we are ready and waiting on the flight for when the passengers arrive onboard.
How many aircraft does Emirates have? In which types have you flown the most often? What are some of the differences between the various types of aircrafts?
Emirates currently operates 201 wide-bodied Airbus and Boeing aircraft. We also operate the biggest fleet of A380s in the skies – 35 and we have a further 55 on order. Each aircraft has its specifics and therefore each cabin crew member is specially trained for a particular type of aircraft. I am trained for A330, A340 and B777, however with the growth of Emirates soon all of us will be also trained for A380.
Who determines the roles of each cabin crew member on board, and according to which criteria? What are the criteria for determining the number of cabin crew members on board?
The Purser, who oversees the cabin crew and is the manager onboard each flight who appoints the roles. Furthermore, each member of the cabin crew is trained to serve a particular cabin class.
What does the accommodation for the cabin crew members look like? Do you all know each other on every flight?
In Dubai all cabin crew members live accommodation that is provided by Emirates. The crew flats are great and are a comfortable and fun place to live. It is close to the airport and there are dedicated Emirates buses that take us to the airport in time for our flights, which is very useful. Emirates has partner hotels in each of its many destinations where cabin crew members stay. Emirates has over 17000 cabin crew members, so you always meet new colleagues when you fly, which is something I enjoy about the job.
Who are Emirates' passengers and to which destinations do they travel to most often?
Emirates travels to 134 destinations on 6 continents via its hub in Dubai and our route network is still expanding. As our passengers travel to all destinations via Dubai, that makes it then naturally our busiest destination. Emirates passengers are people of various nationalities, religions and social backgrounds. They are both business and leisure passengers travelling anywhere in the world to explore new places or visit their families and friends.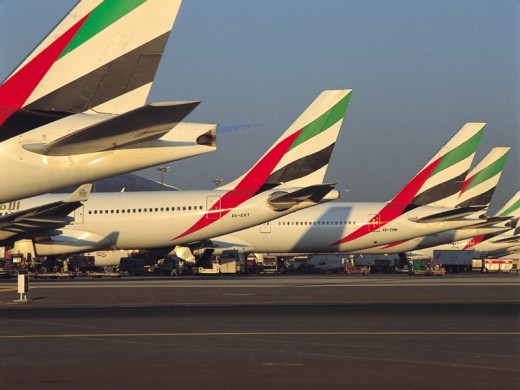 What does the cabin crew usually do in their free time?
Cabin crew members are from all over the world, each with different hobbies and ways to spend their time. In Dubai, I like to go shopping, visit the beach, play sports and hang out with friends. When we have free time between flights at a destination, we try to explore it as much as possible.
I know that you are passionate about sport. Which sports do you do?
I was brought up playing sports so I love all of them. I like to play tennis, ski, run, swim and my newest sport No. 1 is triathlon.
Does Emirates support the sporting activities of their employees?
Emirates has numerous sport clubs for staff and family members. Let me mention just those where I am a member – Emirates Skiing and Snowboarding Club, Emirates Tennis Club and Emirates Triathlon club.
Do you have any major sporting ambitions?
At this moment I am training for Ironman Zurich, Switzerland on 28th Jul this year and Ironman Cozumel, Mexico on 1st Dec also this year. My goal, as any triathlete, is to qualify for the Ironman World Championships Kona, Hawaii.
What new things have you learned as a cabin crew member and what interesting opportunities in life has this profession offered to you?
Since joining Emirates I have travelled to places I had only dreamed of before. Every day is different; a different place with different people, which is an exciting and interesting way to live. Being a cabin crew member broadens your horizons and allows you to be a much more confident and understanding person, I think.
Do you send postcards from your trips?
I love to send and receive postcards, so yes I do send postcards. When I started flying I used to send 10 postcards from every place I went to. Now six years later I still send postcards from new destinations to my family and close friends.
How long have you been working at Emirates?
I joined Emirates in Aug 2007. I still enjoy the job as when I started 6 years ago.
Thank You.
Interview: Michaela lejsková
Photo: Emirates Airlines, Linda Mensova
Publischer: magazin Best Of www.ibestof.cz
Komentáře
---
Vyhledávání:
Newsletter:
---
Best of ... na Facebooku!
Nejčtenější články za měsíc
---
Nejžhavější tagy
---